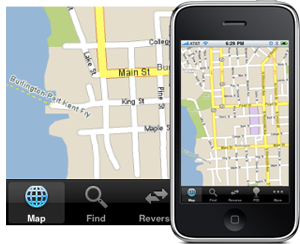 Augusta has taken its popular property records application to Apple mobile devices, officially unveiling the iPhone and iPad app "Augusta Maps" on Thursday.
The free app, available at the App Store, was created by the city Information Technology department at a cost of about $100 for a software developer license, said IT application developer Jeff Lewis.
The app allows users to search property records by owner, address, subdivision or parcel number for information including land and structure values and size, ownership, recent sales, commission district, voter precinct and even trash-collection days.
The information already was available on the city Web site, but IT decided making it mobile was the way to go.
"That's the goal of IT, to get it out to the public, to get it to the masses as they use it," Lewis said. "To be able to put it in their hands where they can actually see it was just a win-win."
Michele Pearman, the Geo­graphic Information Systems project leader who developed the app with Lewis, said the city's online property mapping application drives tremendous traffic to the city Web site from a number of users, including local and international developers interested in area properties.
Users include real estate agents, developers, appraisers and even nosy neighbors interested in knowing what a nearby property sold for, Pearman said.
The mobile app adds the capacity to search using GPS for information about the parcel where a user is situated.
Search "Augusta Maps" in the Apple App Store to download the free app on your iPhone or iPad.
Site credit: http://chronicle.augusta.com/news/government/2012-05-31/city-unveils-augusta-maps-mobile-app?v=1338599551