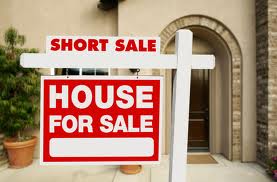 This is a topic that is coming up more and more for my buyers and sellers. I wish I didn't have to write a blog about this, but it's something that we're all facing, so why not talk about it.
There are two scenarios we're going to talk about today.
First: buying a short sale. So many buyers call every day and say, "I saw this great deal that just listed on the MLS for $100,000. Everything in the neighborhood is selling for $150,000; I think I want to buy this one." OH boy, here we go. Time to really explain just how this whole situation will play out.
The unfortunate part about buying a short sale is, you as the buyer are at the mercy of the listing agent. The problem with this is there are too many agents that don't understand how to get a short sale closed, are working with a "3rd party investor", or just thought they would list a house at whatever they wanted, and the bank would just magically accept some random low offer, since of course we are Realtors, and we know best. Right????
Wrong. Actually, the listing agent has no control over what the bank will or will not accept, they can only control how they will approach the short sale, what price to list it at, and which offer they will submit. As a listing agent of a short sale, their job is only to market the property at fair market value, and submit the highest and best offer.
Secondly, another huge misconception about short sales is that somehow, buyers and even some agents–yes, I said agents–think that when there is a short sale listed that their offer MUST be submitted to the bank. Because we've all heard, "you must submit all offers." Right? Wrong again. Actually, submitting multiple offers to a bank would slow down the process, not speed it up, and sometimes halt the short sale all together. It's already hard enough to work with the short sale lender on one offer. Start throwing in more than one, and the bank might go haywire.
So, what do you do about it? If you want to get a great deal on a property, even a short sale, you absolutely can. Actually, I would encourage it. Depending on your particular situation would decide which listing you should consider, and which ones you should stay away from.
There are several different types of short sales on the market. First, there is the already approved short sale. What that means is there was already a preliminary offer that was made on the property, so the bank has already done their appraisal, which means there's a good chance the agent already knows what price the bank will accept, making it easy to know what offer you can submit, without waiting months for the bank to respond. Then there are the short sales that have just been listed. This usually means the seller hasn't even been approved for the short sale yet. Which means there certainly hasn't been an appraisal or anything else done by the bank, which would give you an idea of what they might accept. These short sales are the most drawn out. These are the ones that you hear about that people say, "it took me eight months to close on a short sale."
The easiest way to figure out the difference between the two scenarios is to do your research, ask questions and find a buyer's agent who will help you. As an experienced short sale agent, I can assist you in deciding if pursuing a short sale home is your best bet.