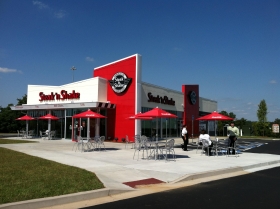 New and exciting things are happening this fall in Columbia County! After months of anticipation, Augusta area residents will soon be able to sink their teeth into Steak `n Shake's famous steak burgers. The area's first Steak `n Shake, located off Jimmy Dyess Parkway, is opening its doors at 10 a.m. Thursday.
Construction on the new Steak `n Shake started in June and took about three months to complete. Since August, 130 employees have been hired. They finished their last day of training Tuesday.
Steak `n Shake will be open from 10 a.m. until 11 p.m. until the first of the year, when the hours change to 24/7. The restaurant is renowned for its steakburgers and hand-dipped milkshakes. The menu also includes breakfast items, chili, burger melts, sandwiches, salads and desserts. There are nearly 500 Steak `n Shake restaurants in 22 states across the country. The closest locations to Augusta are Atlanta, Macon and Statesboro.
In another area of town, Columbia County officials have approved plans for improving Blanchard Park with a skateboard park, as well as adding an inclusive playground area behind the Columbia County Library. The playground will be play-appropriate for all children, including those with special needs and physical and cognitive disabilities.
For more information on these topics, visit the Columbia County News-Times.