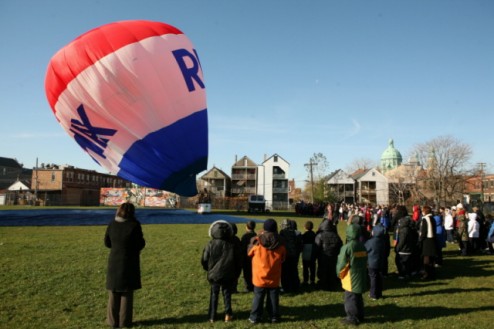 From Above & Beyond magazine
By Amy Reinink
A little girl wanted to fly, and Re/max Balloon Pilot Kevin Poeppelman made it happen—on a day they'll both remember.
Poeppelman has conducted hot-air balloon demonstrations for countless groups of kids through the years, but none of them quite like this. For a few hours on a warm Pennsylvania morning, he shared the wonder of hot air ballooning with a dozen children who are blind or visually impaired.
"Ballooning is very visual," Poeppelman says. "You see a balloon and enjoy its colors, or you appreciate the view from up high. That wasn't possible for these kids, so I tried to find ways for them to experience the beauty of ballooning. And it turned into a very special day."
Nancy Altemose, director of services for the Harrisburg, Pa.-based Tri-County Association for the Blind, says the idea for the event came at the end of an annual weeklong summer camp for sight-impaired children, when she asked the kids to suggest activities for the next year's camp.
One little girl mentioned a hot-air balloon ride. "She has no vision or light perception, so I asked, 'What appeals to you about that?'" Altemose says.
"I've always wanted to fly," the girl replied. "I just think that getting way up there like the birds would be cool."
On the day of the program, Poeppelman and his wife, Amy, started by handing out balloons to the kids—ranging in age from 7 to 16—and asking them to blow them up and think about how much pressure it takes to do so.
"I told them that if they could imagine 90,000 of those one-foot diameter balloons put together, they would have a good idea of how big our balloon is—and how much pressure it takes to blow it up," Poeppelman says.
He also let them stand near the inflater fan, which has a five-horsepower gas propeller that "will blow you over if you stand too close," he says. "Then Poeppelman led the children over to the balloon itself, and let them touch various parts of it.
Next came the hard part. It's a very quiet ascent that doesn't offer much of a sense of motion," he says. "Generally, when you're in the basket, you wouldn't even know you're off the ground if you weren't looking."
Poeppelman focused on the sensation of weightlessness and and let the kids jump up and down in the basket as it ascended. He also chose one child to help him work the panel that activates the burner, and encouraged the others to feel the radiant heat from the balloon and listen to the sound of the burner as it warmed the air trapped inside.
The 9-year-old girl who originally suggested the hot-air balloon visit was the first to go up. As she returned to the ground, Poeppelman says, her first words were, "Can I go up again?"
The joy and wonder of a hot-air balloon ride is something that can last a lifetime, Altemose says.
"When the children conquer something like this, it makes them feel more like a regular kid who can accomplish anything," she says. "Re/max made that feeling possible."