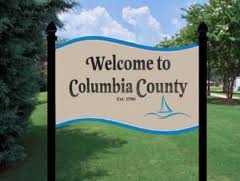 Adapted from Augusta Chronicle article by Jenna Martin and Steve Crawford
A year ago when Dean Dozier was looking for a new place to settle between his home state of Louisiana and his wife's family in Maryland, the Augusta area seemed like a sensible spot.
It was about mid-way between the two states and the Doziers liked what they had seen while passing through. But more than that, Dozier said he liked the numbers.
"We did a good bit of demographic research," said Dozier, who worked in emergency management and disaster response for many years before deciding to start his own business. "We started pulling together a lot of numbers on numbers of households, households with kids, disposable income, things like that."
That research led them to Columbia County, which ranks as one of the fastest growing counties in the country, according to new data released Thursday by the U.S. Census Bureau.
"From a business standpoint it made a good sense to be in this area," said Dozier, who started a franchise with Kona Ice, which sells flavored shaved ice from colorful trucks in 41 states.
Booming growth in Columbia County means more customers for his growing business, said Dozier, who expects to add a second truck to the franchise next week.
Few counties in the nation are growing as fast.
The latest census estimates indicate Columbia County's population has grown by a little more than 6 percent, or about 7,600 people, between 2010 and 2012. Of Georgia's 159 counties, only three added more people and only one – tiny Bryan County – grew at a slightly faster rate.
Columbia County's estimated population increased from 124,053 in April 2010 to 131,627 in July 2012, making it the 45th fastest growing U.S. county.
There were nine other Georgia counties and three South Carolina counties on the list, but none in the metro Augusta area.
In Richmond County, the population increased by just 1 percent, from 200,549 to 202,587 residents in the two-year span. Aiken County grew by 1.7 percent, going from 160,106 to 162,812 in estimated total population.
Tammy Shepherd, president and CEO of the Columbia County Chamber of Commerce, attributed the county's ongoing boom to good government and good schools.
"The number one driver of growth is the school system," said Shepherd. "Being one of the top school systems in the state and also having some very good private schools attracts a lot of people to this area."
Shepherd said the county benefits from a stable economy and a diverse mix of government, military, medical and industrial employers in the metro area that provide good incomes for professionals and skilled laborers alike.
Census estimates put Columbia County's median household income at about $66,500. That's about 34 percent higher than the statewide median household income and about 70 percent higher than the median income in Richmond County.
Shepherd said Census figures are a big driver for new business, especially national retail chains and franchisers looking for growing markets. She said growth in neighborhoods over the past decade, even with the economic downturn, has continued to attract new business to Columbia County, especially Evans and Grovetown. Census figures indicate that Columbia County issued about three times the number of building permits than Richmond County in 2012.
"You get the rooftops first and then you get the retail," she said.
Shepherd, who has lived in the county since 1976, said not many people are familiar with Columbia County outside of the Augusta area, so she has a simple way to explain the surging rate of growth to strangers.
"We build a brand new school every year, add 700 new students every year and have three super Wal-Marts in the county," she said. "When people come back here after being away a long time they are just in shock about the growth."