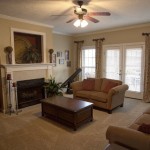 To stage or not to stage is often the subject of many debates. It may not be the greatest of a debates, but it has come to question many times. If you've never heard or read that staged homes show better and sell faster, then read on. Staging offers the opportunity for the buyer to envision themselves living in a property by giving them "perspective" on where they would actually place their own furniture. A furnished home just stands out over vacant homes.
The truth is, if a property doesn't show as well as competing properties it is likely to sit on the market a little longer. Proper staging of your home, whether occupied or vacant, will help your home show better, sell quicker and demand a higher price. Something else that may pleasantly surprise you is, staging a vacant home isn't necessarily cost prohibitive.
From curb appeal to furnishings and decor to lighting and atmosphere, the first impression should be a captivating impression on potential buyers. From the moment the buyers walk in and as they walk through each room they should be able to imagine themselves living in the home.
If you have already moved out of the property remember cold, vacant listings don't tend to stand out in comparison to carefully staged competitors. So, how do you showcase a property to make it show like a model?
Curb Appeal – Grab their attention before they get out of the car. Make sure the lawn and landscaping are well maintained.
Furnishing and Decor – A nicely furnished and decorated home not only creates a welcoming environment. It also allows the buyer to envision living in the home. Using a staging professional to help arrange the home in a manner that presents the home's greatest potential can make the difference in number of days on market and the quality of offers received.
Clean and Declutter – One would think this goes without saying. There are many homes on the market that are shown "AS IS." A cluttered and unclean home is a big distraction. It also creates an uncomfortable showing experience for the buyer and the agent. While it seems pushing things away in closets or in the garage is the easy solution, this is actually a bad idea. Clutter detracts from the actual usable space. A thorough cleaning is always a great investment for a listed home.
Lighting and Atmosphere – The home should always be shown "in its best light"…pun intended! Turn on the lights, open window treatments, raise the blinds! Let the light shine in. Dark and gloomy homes don't show well. Additionally, make sure the temperature is comfortable inside the home. The home should also smell clean and fresh.
This is just a basic overview of what it takes to get your home "dressed to sell" before you put it on the market. If you are still living in your home while it is on the market, you will still need to "stage" your home for presentation and presence. Working with an agent who is knowledgeable and experienced in home marketing can get you off to a great start in preparing your home. As an experienced agent,  I can successfully manage staging as an integral part of your property's marketing plan. In a seller's market, staging can sell a house on the first day it's listed. In a buyer's market, it can sell a house in a matter of days – not months. Staging is an absolute must, for every house, in every price range, in every market. I can help get the job done.
If you're in the market to sell give me a call and let's work together on a marketing plan to get it SOLD!