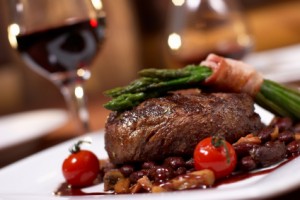 Augusta is known for its many different types of cuisine. If you can think of it, chances are we have it! Whether you're looking for an evening of casual dining or a more formal atmosphere, you can find a restaurant to suit your taste. Venture downtown for a fine dining experience, or head to the locally owned Rhineharts oyster bar for a casual seafood dinner. Augusta also hosts several festivals throughout the year, allowing you to sample foods and experiences from several different cultures and ethnicities, as well as participate in educational activities. Your whole family will enjoy getting to know the Augusta dining scene!
The Bees Knees

Traditionally, tapas dishes have been associated with Spanish cuisine. However at THE BEE'S KNEES, we take a global approach that encompasses various cultures and flavors from around the world. From Thai to Spanish, Cajun to Mediterranean and Japanese to French, we have selected a menu to please the palate. Our many vegan, vegetarian, poultry and seafood dishes are accented by our extensive selection of beer, wine, spirits, sake, coffee, and tea. The name, The Bee's Knees, itself has its own curious meaning. Taken from 1920's jazz influenced slang, it refers to the "hip" or the "cool" thing such as "The Cat's Meow".
Rhinehart's Oyster Bar

Craig and Amy opened their luxurious eating establishment in 1983 with little more than a small refrigerator and their Aunt Nancy's toaster oven (and you thought they were multi-billionaires doing this for kicks). Rhinehart's moister oysters, home-baked bread, and attentive, hardworking staff quickly became a hit in Augusta. People began to tell their friends (or relatives if they couldn't afford friends) to look for Rhinehart's for good food and great fun … and they lived happily ever after!
TakoSushi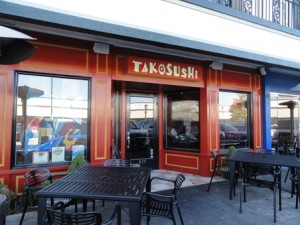 After more than 30 years of catering, owner Kevin Goldsmith is tending to a different kind of fire. The concept of fresh, fun, and funky describe Kevin as well as Takosushi. The recipes are rustic, the food made by hand. Years of living, eating, and cooking in the Southwest has resulted in a menu that is truly authentic. Then there's his love for all things Asian. Go figure. Goldsmith's culinary inspiration stems from a trio of cuisines that blend his southwestern knowledge, American inclinations and contemporary Asian style to create bold yet simple dishes that define his talent and differentiate his craft. Takosushi comes on strong with inventive but down-to-earth flavors that consistently wow locals and visitors alike. Rouse your senses with the eclectic vibe and ingredient-driven cuisine rooted in western and Asian traditions. The beauty of this food is in its utter simplicity, yet it seductively teases the tongue and leaves you wanting to try so much more.
Boll Weevil Cafe and Sweetery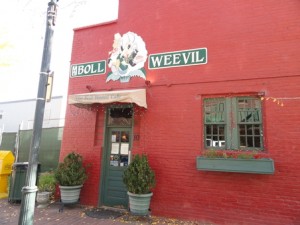 The Boll Weevil Café and Sweetery is a cozy cafe with an eclectic menu featuring more than 30 homemade desserts; a delectable 'Southern Delights' menu with southern favorites such as fried green tomatoes and shrimp and grits; and an abundance of wines by the glass and bottle. Once an old cotton warehouse from the 1870's, and located just steps from the scenic Augusta Riverwalk Park and Amphitheatre, the Boll Weevil Café is a great place to soak in the old and new of Augusta. The Boll Weevil has been named "Best Desserts" for four years running, Augusta Magazine; "Best Desserts" in Metro Spirit since the magazine's awards inception; and has been featured in Southern Living and Cooking with Paula Deen.
Beamie's at the River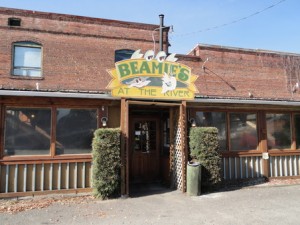 Beamie's at the River is open 7 days a week. Lunch is great. Dinner is great. The Regulars are great. You can dine inside or enjoy our covered patio. There's nothing 'fancy' about Beamie's but you'll keep coming back. "We make Shrimp Happen."