Augusta Canal Mountain Bike Trail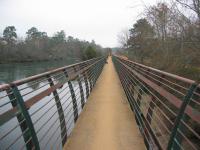 You can leave your suspension forks at home for the ride on the canal. The singletrack starts at the pumping station by the railroad tracks. There are two well marked loops, a red (about 4 miles) and white (about 3 miles). If you stick to the canal, the ride can be a leisurely Saturday afternoon stroll with the family, an intense endurance-building workout or a shortcut to historic downtown Augusta.
Be sure to check out what's going on at Riverwalk.
Pumping Station Mountain Bike Trail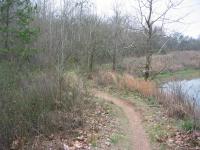 There are two trails here – the red and the white. If you go out on the red, you will return on the white and vice versa. The loop is only about 3 miles long but you can ride it multiple times and not get tired. Combine this trail with the canal trail and you have a good workout. Lots of twists and turns, very few roots, a few fast gullies, and lots of neat views of the river. A great trail.
Forks Area Trail System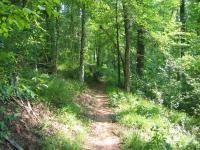 This trail system is an epic addition to the Sumter National Forest area trails. Amazing singletrack with great flow, tons of jumps, and fast terrain. Minimal climbing makes this a good trail for beginners while experts can test their cornering and jumping skills. Four loops at this time range in length from 5-8 miles each. Worth the drive from just about anywhere, you'll want to ride every inch of trail before you leave!
West Dam (Bartram Trail) Mountail Bike Trail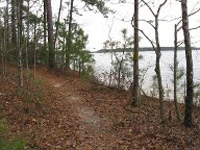 A 9.5 mile trail that goes along the lakeshore to the Petersburg camping area. It is technical in some areas but mostly for novice-intermediate riders. You can easily get an average speed of 10-11 mph.
Information provided by www.singletracks.com. Check out their website for maps and other Augusta area biking information.